Toyota Avalon Owners Manual: For safe driving
For safe driving, adjust the seat and mirror to an appropriate position before driving.
Correct driving posture
Adjust the angle of the seatback so that you are sitting straight up and so that you do not have to lean forward to steer.
Adjust the seat so that you can depress the pedals fully and so that your arms bend slightly at the elbow when gripping the steering wheel.
Lock the head restraint in place with the center of the head restraint closest to the top of your ears.
Wear the seat belt correctly.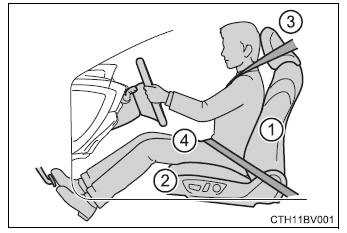 Correct use of the seat belts
Make sure that all occupants are wearing their seat belts before driving the vehicle. Use a child restraint system appropriate for the child until the child becomes large enough to properly wear the vehicle's seat belt.
Adjusting the mirrors
Make sure that you can see backward clearly by adjusting the inside and outside rear view mirrors properly.
WARNING
Observe the following precautions.
Failure to do so may result in death or serious injury.
Do not adjust the position of the driver's seat while driving.

Doing so could cause the driver to lose control of the vehicle.

Do not place a cushion between the driver or passenger and the seatback.

A cushion may prevent correct posture from being achieved, and reduce the effectiveness of the seat belt and head restraint.

Do not place anything under the front seats.

Objects placed under the front seats may become jammed in the seat tracks and stop the seat from locking in place. This may lead to an accident and the adjustment mechanism may also be damaged.

Always observe the legal speed limit when driving on public roads.
When driving over long distances, take regular breaks before you start to feel tired.

Also, if you feel tired or sleepy while driving, do not force yourself to continue driving and take a break immediately.
See More:
Toyota Avalon Service & Repair Manual > Washer Nozzle: Removal
REMOVAL CAUTION / NOTICE / HINT HINT: Use the same procedure for the RH side and LH side. The following procedure is for the LH side. PROCEDURE 1. REMOVE WASHER NOZZLE SUB-ASSEMBLY (a) Using a screwdriver with its tip wrapped with protective tape, disengage the 2 claws as shown in the illustration t ...
Toyota Avalon Owners Manual
Toyota Avalon Service & Repair Manual
© 2021 Copyright www.tavalon.net
0.0247