Components
COMPONENTS
ILLUSTRATION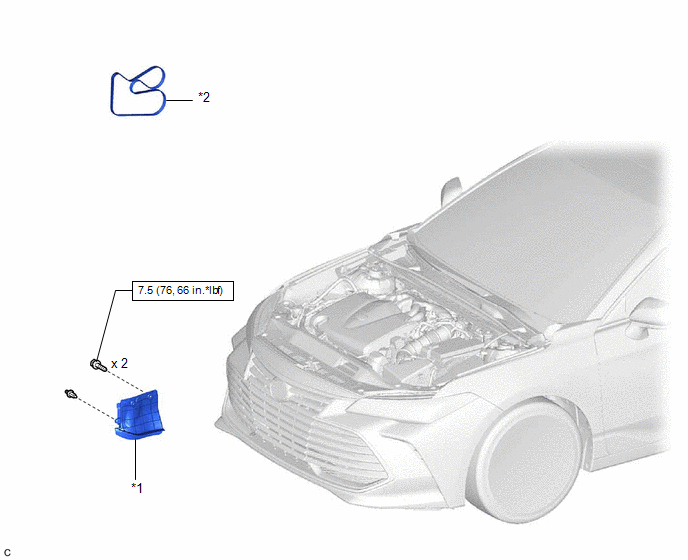 | | | | |
| --- | --- | --- | --- |
| *1 | FRONT FENDER APRON SEAL RH | *2 | V-RIBBED BELT |
| | N*m (kgf*cm, ft.*lbf): Specified torque | - | - |
Installation
INSTALLATION
PROCEDURE
1. INSTALL V-RIBBED BELT
Click here

2. INSTALL FRONT FENDER APRON SEAL RH
Click here

3. INSTALL FRONT WHEEL RH
Click here

On-vehicle Inspection
ON-VEHICLE INSPECTION
CAUTION / NOTICE / HINT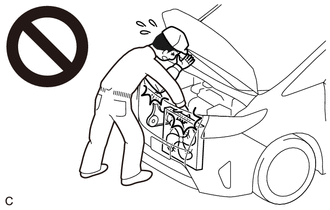 CAUTION:
To prevent injury due to contact with an operating V-ribbed belt or cooling fan, keep your hands and clothing away from the V-ribbed belt and cooling fans when working in the engine compartment with the engine running or the engine switch on (IG).
PROCEDURE
1. INSPECT V-RIBBED BELT
(a) Check the V-ribbed belt for wear, cracks or other signs of damage.

HINT:

If any of the following defects is found, replace the V-ribbed belt.

The V-ribbed belt is cracked.
The V-ribbed belt is worn to the extent that the cords are exposed.
The V-ribbed belt has chunks missing from the ribs.
(b) Check that the V-ribbed belt fits properly in the ribbed grooves.

HINT:

Make sure to check by hand that the V-ribbed belt has not slipped out of the grooves on the bottom of the pulley. If it has slipped out, replace the V-ribbed belt. Install a new V-ribbed belt correctly.
Precaution
PRECAUTION
NOTICE:
Do not apply or add any oil or grease to the belt tensioner to prevent abnormal noises from the belt tensioner pulley, belt squealing, etc.
Do not allow oil or grease to adhere to the moving parts of the belt tensioner, as this may cause malfunctions.
If oil or grease is on the location indicated by the arrow, replace the belt tensioner.
Removal
REMOVAL
PROCEDURE
1. REMOVE FRONT WHEEL RH
Click here

2. REMOVE FRONT FENDER APRON SEAL RH
Click here

3. REMOVE V-RIBBED BELT
Click here