REMOVAL

CAUTION / NOTICE / HINT

The necessary procedures (adjustment, calibration, initialization, or registration) that must be performed after parts are removed and installed, or replaced during air fuel ratio sensor removal/installation are shown below.

Necessary Procedures After Parts Removed/Installed/Replaced
Replaced Part or Performed Procedure

Necessary Procedure

Effect/Inoperative Function when Necessary Procedure not Performed

Link

Replacement of air fuel ratio sensor (sensor 1)
Gas leak from exhaust system is repaired

Inspection after repair

Poor idle, etc.
Engine start function, etc.
PROCEDURE
1. REMOVE NO. 1 ENGINE COVER SUB-ASSEMBLY
Click here

2. REMOVE AIR FUEL RATIO SENSOR
CAUTION:
To prevent burns, do not touch the engine, exhaust manifold or other high temperature components while the engine is hot.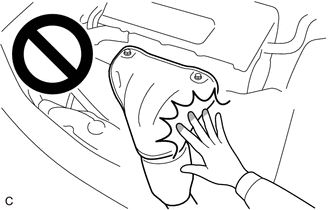 | | |
| --- | --- |
| (a) Disengage the 3 wire harness clamps. | |
(b) Disconnect the air fuel ratio sensor connector.
(c) Using SST, remove the air fuel ratio sensor from the exhaust manifold (TWC: Front Catalyst).

SST: 09224-00012

NOTICE:

If the air fuel ratio sensor has been struck or dropped, replace it.