Adjustment procedure
Manual type
1. Hold the steering wheel and push the lever down.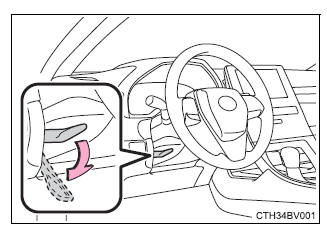 2. Adjust to the ideal position by moving the steering wheel horizontally and vertically.
After adjustment, pull the lever up to secure the steering wheel.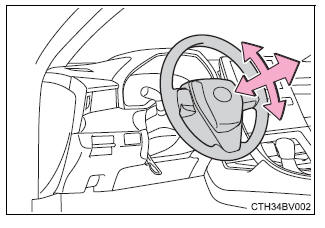 Power type
Operating the switch moves the steering wheel in the following directions:
Up
Down
Toward the driver
Away from the driver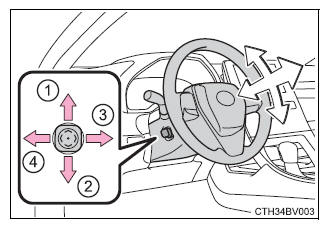 Horn
To sound the horn, press on or close to the

mark.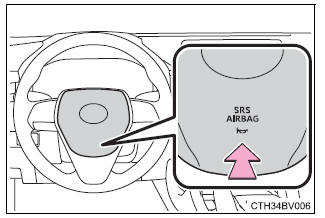 ■The steering wheel can be adjusted when (power type) The engine switch is in ACCESSORY or IGNITION ON mode.
■Automatic adjustment of the steering position (vehicles with driving position memory) A desired steering position can be entered to memory and recalled automatically by the driving position memory system.
■Power easy access system (vehicles with driving position memory) The steering wheel and driver's seat move in accordance with engine switch mode and the driver's seat belt condition.
WARNING
■Caution while driving Do not adjust the steering wheel while driving.
Doing so may cause the driver to mishandle the vehicle and cause an accident, resulting in death or serious injury.
■After adjusting the steering wheel (manual type) Make sure that the steering wheel is securely locked.
Otherwise, the steering wheel may move suddenly, possibly causing an accident, and resulting in death or serious injury. Also, the horn may not sound if the steering wheel is not securely locked.