The BSM function uses radar sensors to detect vehicles that are traveling in an adjacent lane in the area that is usually not reflected in the outside rear view mirror (the blind spot), and advises the driver of the vehicles existence via the outside rear view mirror indicator.
BSM function detection areas
The areas that vehicles can be detected in are outlined below.
The range of the detection area extends to:
Approximately 11.5 ft. (3.5 m) from the side of the vehicle
The first 1.6 ft. (0.5 m) from the side of the vehicle is not in the detection area
Approximately 9.8 ft. (3 m) from the rear bumper
Approximately 3.3 ft. (1 m) forward of the rear bumper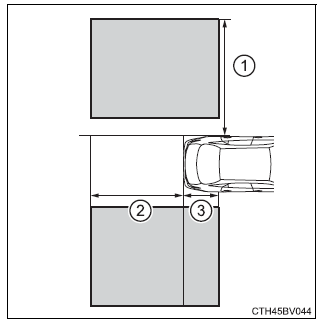 WARNING
■Cautions regarding the use of the system The driver is solely responsible for safe driving. Always drive safely, taking care to observe your surroundings.
The BSM function is a supplementary function which alerts the driver that a vehicle is present in the blind spot. Do not overly rely on the BSM function.
The function cannot judge if it is safe to change lanes, therefore over reliance could cause an accident resulting in death or serious injury.
According to conditions, the system may not function correctly. Therefore the driver's own visual confirmation of safety is necessary.
■The BSM function is operational when
The BSM function is turned on
Vehicle speed is greater than approximately 10 mph (16 km/h).
■The BSM function will detect a vehicle when
A vehicle in an adjacent lane overtakes your vehicle.
You overtake a vehicle in adjacent lane slowly.
Another vehicle enters the detection area when it changes lanes.
■Conditions under which the BSM function will not detect a vehicle The BSM function is not designed to detect the following types of vehicles and/or objects:
Small motorcycles, bicycles, pedestrians, etc.*
Vehicles traveling in the opposite direction
Guardrails, walls, signs, parked vehicles and similar stationary objects*
Following vehicles that are in the same lane*
Vehicles driving 2 lanes across from your vehicle*
Vehicles which are being overtaken rapidly by your vehicle
*: Depending on the conditions, detection of a vehicle and/or object may occur.
■Conditions under which the BSM function may not function correctly
The BSM function may not detect vehicles correctly in the following conditions:

When the sensor is misaligned due to a strong impact to the sensor or its surrounding area
During bad weather such as heavy rain, fog, snow, etc.
When mud, snow, ice, a sticker, etc., is covering the sensor or surrounding area on the rear bumper
When driving on a road surface that is wet due to rain, standing water, snow, etc.
When there is a significant difference in speed between your vehicle and the vehicle that enters the detection area
When a vehicle is in the detection area from a stop and remains in the detection area as your vehicle accelerates
When driving up or down consecutive steep inclines, such as hills, a dip in the road, etc.
When driving on roads with sharp bends, consecutive curves, or uneven surfaces
When multiple vehicles approach with only a small gap between each vehicle
When vehicle lanes are wide, and the vehicle in the next lane is too far away from your vehicle
When the vehicle that enters the detection area is traveling at about the same speed as your vehicle
When there is a significant difference in height between your vehicle and the vehicle that enters the detection area
Immediately after the BSM function is turned on

Instances of the BSM function unnecessarily detecting a vehicle and/or object may increase under the following conditions:

When the sensor is misaligned due to a strong impact to the sensor or its surrounding area
When there is only a short distance between your vehicle and a guardrail, wall, etc.
When there is only a short distance between your vehicle and a following vehicle
When vehicle lanes are narrow and a vehicle driving 2 lanes across from your vehicle enters the detection area
When driving on roads with sharp bends, consecutive curves, or uneven surfaces
When items such as a bicycle carrier are installed on the rear of the vehicle