INSTALLATION
CAUTION / NOTICE / HINT
HINT:
Use the same procedure for the RH side and LH side.
The following procedure is for the LH side.
PROCEDURE
1. INSTALL SIDE TELEVISION CAMERA ASSEMBLY
(a) Using a T10 "TORX" driver, install the side television camera assembly to the camera cover with the 2 screws.
(b) Engage the 3 guides as shown in the illustration.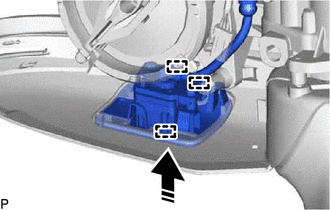 | | |
| --- | --- |
| | Install in this Direction |
(c) Engage the 4 claws.
(d) Engage the 3 guides.
(e) Connect the connector.
(f) Engage the clamp.
2. INSTALL VISOR HOUSING
Click here

3. INSTALL OUTER MIRROR COVER
Click here

4. INSTALL OUTER MIRROR
Click here

5. INSTALL OUTER REAR VIEW MIRROR ASSEMBLY WITH COVER
Click here

6. PERFORM CALIBRATION
for Gasoline Model: Click here

for HV Model: Click here